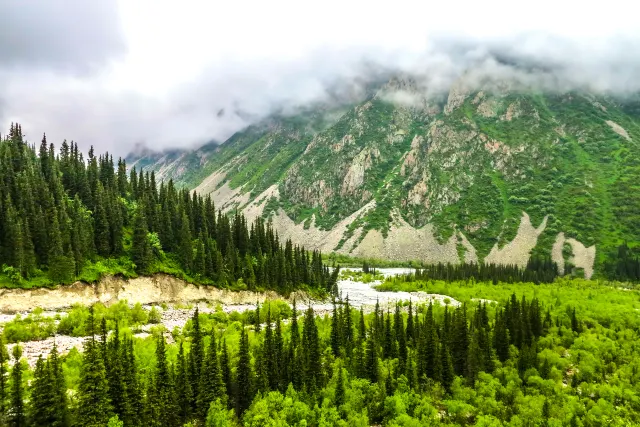 A great green wall built along the mountain, Tianshan Xueling Spruce Forest lies on the southern slope of Tianshan in Xinjiang Province, along the western portion of the Kunlun Mountains and Junggar Mountains. During the summer, Tianshan's light green grasslands turn a dark green and the scattered houses and beautiful clouds complement one another as if in a landscape oil painting. As you take in the view, you'll be able to feel a pleasant breeze caress your face and hear the pleasant sound of singing birds.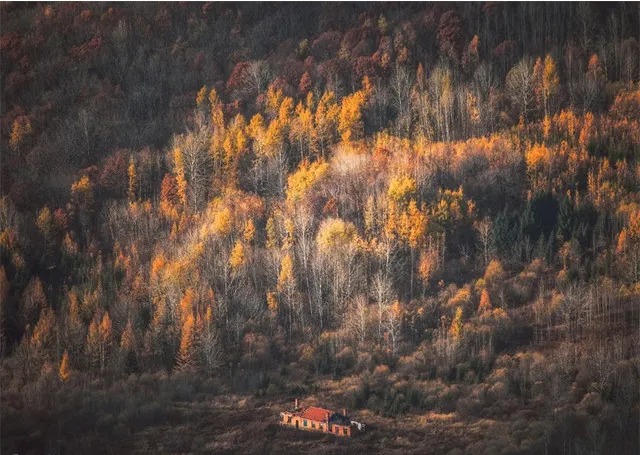 Red Maples catch the eye during a warm Fall season Broad leaf red pines are concentrated along the Xiao Xing'an Mountain, Zhang Guangcai Mountain, Wanda Mountain, and Taiping Mountain regions. Piles of lush leaves of the broad leaf red pine forests cover the mountain paths. If you were to paint a picture of all four seasons here, it would show flowers and plants vying to be the most beautiful during April, insects and birds among verdant trees during midsummer, the colors of a warm autumn and the red maples catching the eye, and water turning into frost during the quiet of winter. There area has no shortage of paths and bridges over rivers and mountains that people find so charming.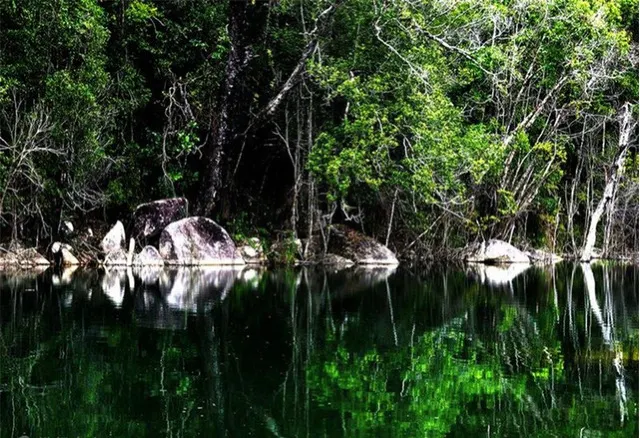 The Jianfeng Ridge National Forest Park was formed in ancient times by living fossil plants and is known as the "hot island cold mountain" in the north of the Ledong Li Autonomous County. The park was China's first national tropical rainforest park. Various sized vines are wrapped around trees or entwined with each other to form different shapes. Some look like huge pythons wrapped around trees, some look like ropes, and some look like antennae.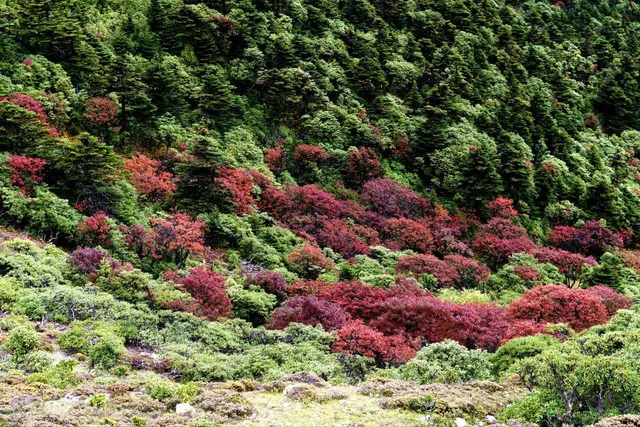 A well-preserved pristine cold zone forest area, Baima Snow Mountain Nature Reserve includes Baima Snow Mountain and Renzhi Snow Mountain along the northern section of the Yun Range. Located in the middle of the cross-mountain range, the steep cliffs give people a chilling feeling, but if you look upwards you can see clouds dancing in the wind. The clouds over the mountain are like a beautiful but aloof woman admiring her own reflection. In early summer, the ice melts away and the mountains are covered with newly flowered azaleas. It's as though the mountains become adorned with flowers which really catches the eye with its unconventional beauty. During the winter, the whole mountain is covered in ice and snow and tourists can get a real taste of a snowy wonderland.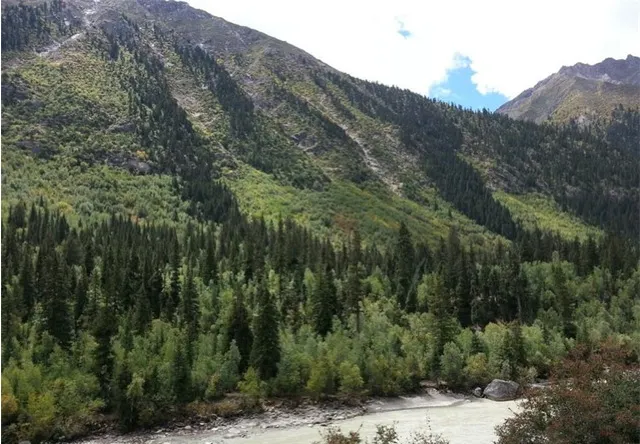 The tall mountain is densely populated with trees as the ancient forests reach to the sky If you were to sprinkle a mountain slope with gold dust and mix it with some crushed up red flower petals, you would get something like Nyingchi Spruce Forest in Bome Prefecture. Nyingchi Spruce Forest in Bome Prefecture is located 22km west of Zhamo Township and covers a total area of 4,600 hectares. The landscape is connected with rivers and mountains, with ancient forests along mountain slopes that consist mainly of Chinese White Pine, which is a variety of precious spruce tree. Spruce forests grow very evenly with the huge trees seeming to spring up from the ground. They provide copious amounts of shade that make for a paradise on earth.
The only well-preserved large areas of tropical forest in the world The reserve is situated over the three counties of Jinghong, Mengla, and Menghai in the Xishuangbanna region of southern Yunnan Province. The beauty of a masterpiece of nature can be found here in abundance in all its unique splendor. If you're tired of smoggy days in the city and want to get away from cold and unfeeling high-rise buildings, then you'd do well to nourish your soul by communing with nature in this paradise on earth. Lie upon moss-covered tree trunks, see new sprouts growing through the moss, and inhale the nourishing air that surrounds you.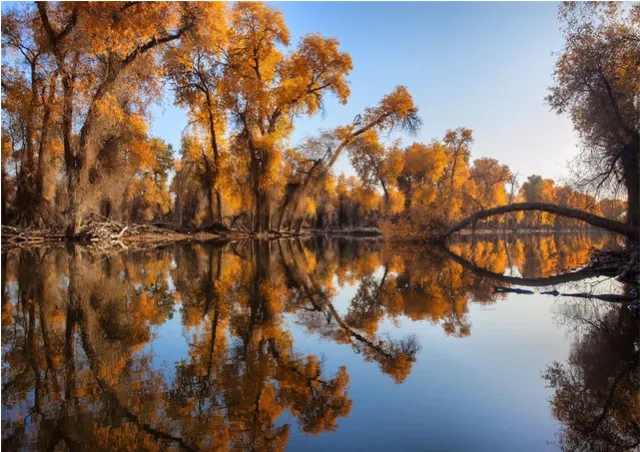 Over 40 acres of natural poplar forest# The poplar trees live for three thousand years and don't fall down for three thousand years after they die. When they fall, they still don't decompose for another three thousand years. Poplars grow steadily in this region due to their unique hardy nature. Luntai County in the Xinjiang Uyghur Autonomous Region is located along the southern side of Tianshan and along the north of the Tarim Basin. This area is home to the world's largest, most densely distributed, and best surviving "Tertiary Period Living Fossils." Luxuriant trees stand shoulder to shoulder with branches interlocked to form the unique scenery. If you were to throw a stone against a tree, it would be like sending out ripples in a pond as cicadas and mayflies stir. You'll be left feeling just how small humanity is in the grand scheme of the natural world.
Surviving subtropical forests are rare The Libo Karste Forest in Guizhou Province one of China's and the world's rare surviving subtropical forests in pristine condition. Splashing streams open up paths through the quiet forest and life bursts out from them to form waterscapes in the mountains.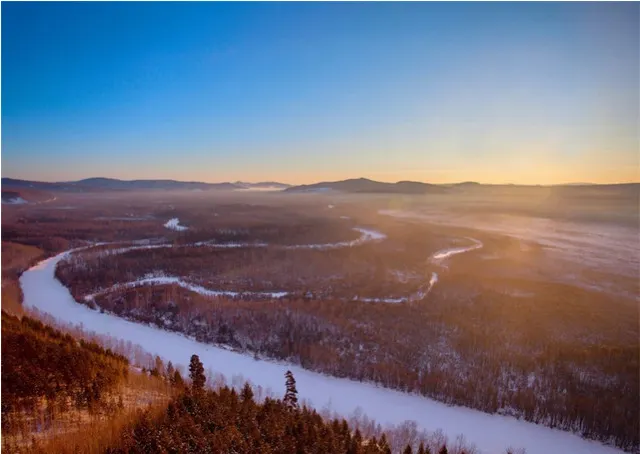 Mist drifts through the forest as trees grow luxuriant Stretching along the Greater Xing'an Mountain Range rise peak after peak and vast forests of trees to create magnificently beautiful scenery. Here, the tall and lush Xing'an larch forests flourish. Their branches and leaves grow so prodigiously that in some areas they even block out the sunlight all year round. The forests are reflected in the quiet rivers, forming a wonderful landscape as if from a painting.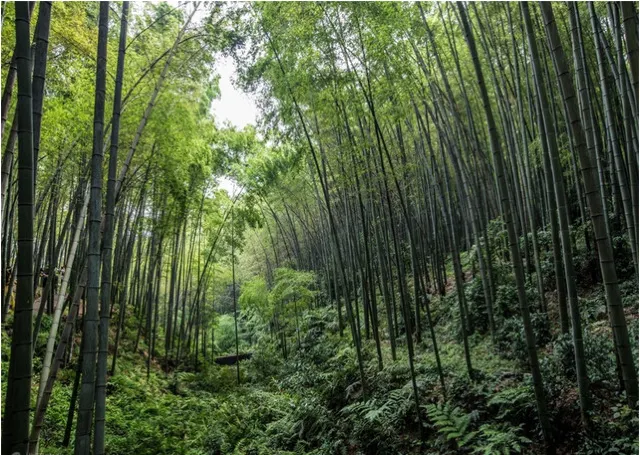 Peaceful life among the bamboo I can live without eating meat, but I couldn't live without bamboo. Luxuriant bamboo forests, clean and clear water, floating on a small bamboo raft, carrying a bamboo pole. Shunan Bamboo Sea is a paradise on earth. As you take in the scenery on from a boat ride, you can occasionally see fish scatter and watch their red tails swish away in a scene of elegance. Find yourself a flat piece of stone, scoop up some water, rustle up some tea leaves and brew some tea among the bamboo to the accompaniment of bird and animal sounds.